MediaCoder HDV (Hi-Definition Video) Edition
High-definition (HD) video refers to video system of higher resolution than standard-definition (SD) video, most commonly at display resolutions of 1280×720 (720p) or 1920×1080 (1080i or 1080p). High-definition image sources include terrestrial broadcast, direct broadcast satellite, digital cable, high definition disc (BD), internet downloads and the latest generation of video game consoles. MediaCoder HDV Edition is specially customized and configured for encoding hi-hefinition video contents to several industrial standard video formats like H.264, MPEG-2, MPEG-4.

Key Features
Transcoding hi-definition video contents in most popular formats to H.264, MPEG-4 or MPEG-2 in TS and MOV container (can support more if customer requests)
5.1-channel AAC and AC-3 audio encoding, supporting mixing 5.1-channel audio by individual waveform/PCM files
Batch processing capability (customized process flow according to customer request)
Real multi-threading design, optimized for multi-core processors (over 90% CPU utilization on quad-core)
Easy-to-use user interface
More suitable for enterprise/massive production use (no popup web pages, no Firefox dependency for advanced settings access)
Screenshot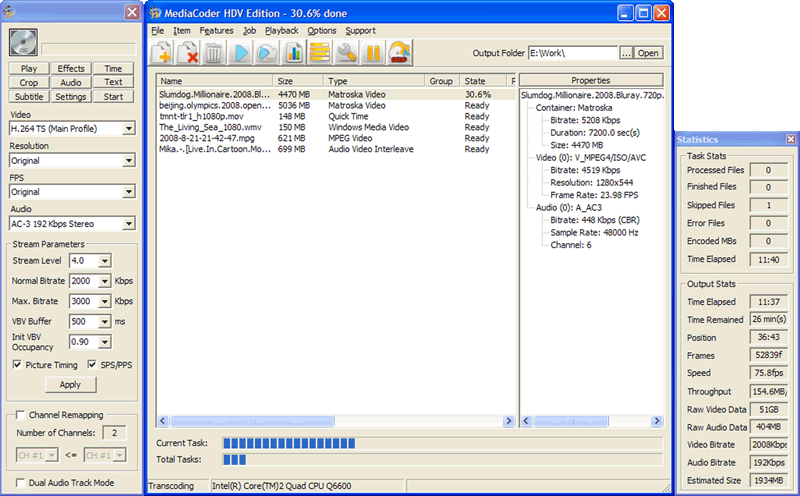 Evaluation
Please contact us to obtain an evaluation version.
Purchase
Now that MediaCoder is free, why should you pay for this special edition? Here are several reasons:
The free version is designed for audio and video enthusiatists with best flexibilty and configurability. So you need more expertise in this field in order to configure the software to work best.
Special editions are customized for specific targets with all paramters pre-configured and optimized, which can maximize your productivity and efficiency.
Special editions have simplified user interfaces. All the common options are available with quick access. Moreover, all those can be altered according to customer's request.
No popup welcome page, updating checking etc. We accept UI customization and branding.
The free version is distributed in the basis of AS-IS, without promised technical support of any kind.
Customers will be provided with free technical support for 4 weeks after purchasing any special edition.
Please contact us for purchasing details.