MediaCoder Premium VOD Edition is a specialized version of MediaCoder Premium which is designed for massive video transcoding for VOD industry. It has additional features which other editions don't have, including multiple audio track conversion and batch audio volumne normalization. It has a customized sidebar for presets for standardardized audio and video formats commonly used in the industry.
Features
Supporting video formats of H.264/AVC, H.265/HEVC, DivX, XviD, MPEG-1, MPEG-2 etc.
Supporting audio formats of AC-3, MP3, MP2, LC-AAC, HE-AAC etc.
Supporting container formats of MP4, MKV, MPEG-TS, MPEG-PS etc.
Batch audio volume normalization
Preset Sidebar for easy configuration
Dual audio streams transcoding
Converting between dual audio tracks and single audio track (left/right channel)
Swapping audio track order or audio channel order
Automatic task processing for Watch-Folder (monitoring newly added files in folders)
Automatic setting bitrate (by percentage) according to input
Encoding H.264 CBR TS (IPTV broadcasting compatible)
GPU encoding acceleration (3~5 times speed boost for H.264 encoding)
Screenshots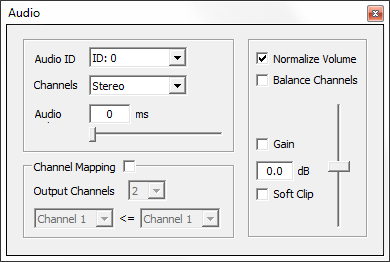 Audio normalization options
System Requirements
Windows XP, Windows Server 2003/2008/2012, Windows Vista, Windows 7, Windows 8, Windows 8.1
2GB or more system memory
Quad-core processor (or better) recommended
Intel Processor Graphics or nVidia CUDA supported display adapter required by GPU Edition
Evaluation
We provide a trial version for evaluation purchase. The trial version is fully featured but without:
HEVC/H.265 encoding
GPU acceleration
IPTV compliant presets
64-bit binaries
As a limitation, the trial version only process up to 3 minutes of each file and only 2 files can be added to the task queue at one time. The trial version is provided in 32-bit version only but also runs on 64-bit Windows.
Download Trial Version of MediaCoder Premium VOD Edition
Get Your Licence
MediaCoder Premium VOD Edition is licensed per peer (computer). One licence (a serial number) allows one computer to run the software at one time. You are allowed to install the software with your licence at arbitary number of computers as the licence is not bound with hardware.
For Internet licence, the licence is automatically obtained and validated via Internet on software startup and released on its shutdown.
For USB key licence, a hardware USB key will be provided to the user. One USB key allows one computer to run the software. The USB key licence is also not bound to hardware. It allows use of the software without Internet. Please note that on software start-up, Internet access may still required for validating the USB key. If you want to use the software in a completely network-less environment, please contact us for instructions.
If you have made a donation for MediaCoder and got a MediaCoder ID, your donation can be credited to your purchase of MediaCoder Premium. Your MediaCoder ID will still be working after the purchase. Please contact us if you need to be credited.
To get your licence for MediaCoder Premium VOD Edition, choose the type licence below and you will be directed to PayPal for payment. Credit card is accepted even without a PayPal account. Once the payment is made, your licence information will be displayed on the subsequent page instantly and you are ready to use the software right away. You can always choose to upgrade from one licence to another any time. Simply proceed with the purchase and you will be credited for your previous payment. Please contact us for crediting you in this case.
About USB Key Licence
For USB licence, we will ship a USB key to the customer by registered air mail. A Internet licence will be be provided for temporary use before customer receiving the USB key.
If you need MediaCoder Premium working in a complete network-less environment, you must purchase the USB key licence. However, even with the USB key the software still requires Internet connection on program start-up. If you can't do with that, once you have received the USB key, send us a code prompted by the program when it fails to connect to licence server on start-up and we will send you an special offline version. The licence will be bound to your hardware in that case.
Contact Us
For any questions or inquiries, please contact us by email or through facebook.